29 décembre 2011
4
29
/

12
/

décembre
/

2011
16:44
Photography by Mr Jacob Sutton. Styling by Mr Bruce Pask
Words by Mr Jim Shi
"I have zero interest in being the biggest thing right now," says Mr Gubler, as he takes a break from his MR PORTER shoot for coffee and pastries. Perhaps best known for his role as bespectacled, witty Dr Spencer Reid in the CBS dramaCriminal Minds, Mr Gubler seems wholly unlike the stereotypical Hollywood hot shot. Rather, he is polite, unassuming, modest.
"It sounds pretentious," he says, "but there's nothing less stylish than trying to be stylish." It's a simple belief, but one that Mr Gubler has held onto for most of his 31 years. You could even say it has helped to shape him into the burgeoning talent that we behold today, clad in a simple blazer, cords and a T-shirt that he's had for a third of his life.
Making good use of his handsome looks, this Las Vegas native (his family's roots in Sin City date back to the 1940s) started out as a fashion model for brands including Marc Jacobs and Burberry, shooting stories with photographers like Mr Terry Richardson. "I also studied film-making at New York University and ended up acting, luckily," he says. "I love entertaining people in any way."
Having recently completed his sixth season of Criminals Minds, Mr Gubler has returned to pursuing his first love: directing. He has made two episodes of the aforementioned show, not to mention several indie films as well as a witty mockumentary series entitled Matthew Gray Gubler: The Unauthorized Documentaries.
His directing icons are as unconventional as he is: Mr John Waters, Mr Vincent Gallo ("Buffalo '66 is a masterpiece"), Mr Roman Polanski, the Coen Brothers, Mr Alfred Hitchcock and Mr Wes Anderson (Mr Gubler interned with Mr Anderson while the latter was making The Life Aquatic with Steve Zissou and won a minor role in the film).
His next few parts see him mainly behind the scenes, voicing the role of Simon inAlvin and the Chipmunks: Chip-Wrecked, Windsor in Scooby Doo: Attack of the Phantosaur, and Jimmy Olsen in All-Star Superman. "I grew up loving cartoons; it's a beautiful medium," he says. It comes as no surprise, then, that Mr Gubler has form as an illustrator and photographer.
"We have a lot of downtime on set so I started drawing," he says. "I became obsessed with watercolours." That passion has translated into an online portfolio that showcases his textured observations of some of life's characters, re-imagined in contorted, elongated form.
Then there's Magic Valley, an independent feature from Mr Jaffe Zinn, which recently premiered at the Tribeca Film Festival. In it, Mr Gubler plays the role of a death-metal fish farmer, wearing plenty of "cool Norwegian death metal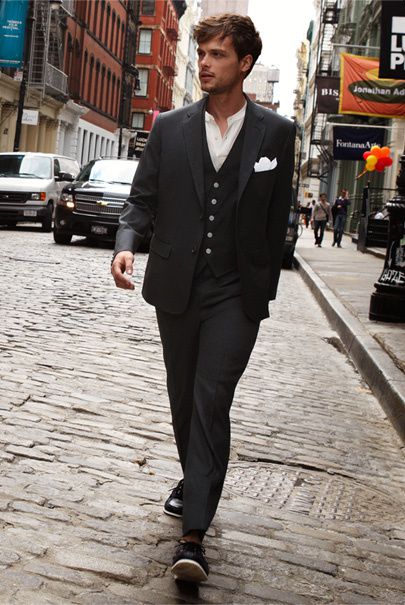 source